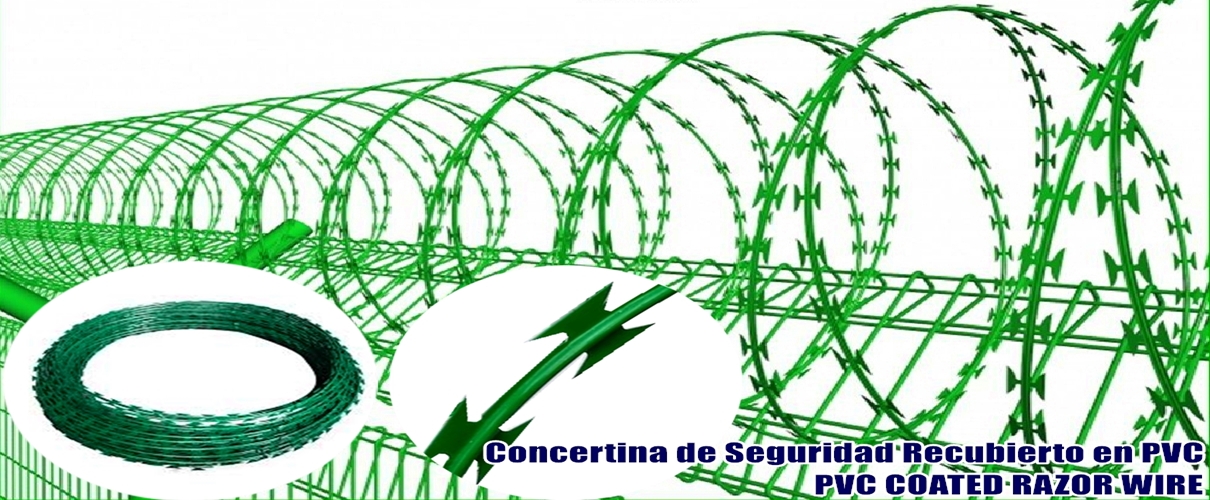 PVC Coated Steel Razor Wire
PVC coated razor concertina wire is a kind of anti-climbing barrier used together with PVC coated metal fence panels to achieved enhanced fencing effect. With beautiful colors, this type of razor wire is mainly used in fencing of perimeters, agriculture uses, villa wall and windows, expressways and national borders.
Features: Razor wire coils with PVC coating offer beautiful appearance, economic cost, good security effect and easy installation. Sharp blades coming in the form of concertina by buckles bring very good result of frightening and stopping to the aggressive perimeter intruders.
Types: Spiral, single coils and crossed concertina types.
Razor Wire Specifications Applied to All Materials
Standard specification:
Razor thickness: 0.5mm-0.6mm.
Razor length: 12mm-21mm
Razor width: 13mm-21mm
Wire diameter: 2.5mm.
Outside diameter: 450mm-960mm
Barb spacing: 26mm-100mm
Number of loops: 31-104
Standard length per coil: 8m-16m.
Razor barbed types: Single coil, cross type (concertina razor barbed wire, flat razor barbed wire mesh).
Special specifications can be provided to meet the customer's requirements.
Blade Styles: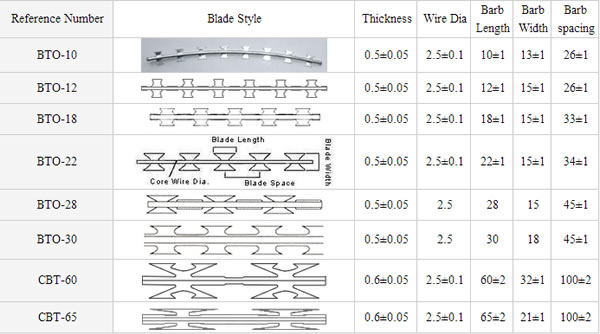 Loops and Coil Sizes
| | | | | |
| --- | --- | --- | --- | --- |
| Outside Diameter | No. of Loops | Standard Length per Coil | Type | Notes |
| 450mm | 33 | 7-8M | CBT-60.65 | Single coil |
| 500mm | 56 | 12-13M | CBT-60.65 | Single coil |
| 700mm | 56 | 13-14M | CBT-60.65 | Single coil |
| 960mm | 56 | 14-15M | CBT-60.65 | Single coil |
| 450mm | 56 | 8-9M (3 CLIPS) | BTO-10.12.18.22.28.30 | Cross type |
| 500mm | 56 | 9-10M (3 CLIPS) | BTO-10.12.18.22.28.30 | Cross type |
| 600mm | 56 | 10-11M (3 CLIPS) | BTO-10.12.18.22.28.30 | Cross type |
| 600mm | 56 | 8-10M (5 CLIPS) | BTO-10.12.18.22.28.30 | Cross type |
| 700mm | 56 | 10-12M (5 CLIPS) | BTO-10.12.18.22.28.30 | Cross type |
| 800mm | 56 | 11-13M (5 CLIPS) | BTO-10.12.18.22.28.30 | Cross type |
| 900mm | 56 | 12-14M (5 CLIPS) | BTO-10.12.18.22.28.30 | Cross type |
| 960mm | 56 | 13-15M (5 CLIPS) | BTO-10.12.18.22.28.30 | Cross type |
| 980mm | 56 | 14-16M (5 CLIPS) | BTO-10.12.18.22.28.30 | Cross type |